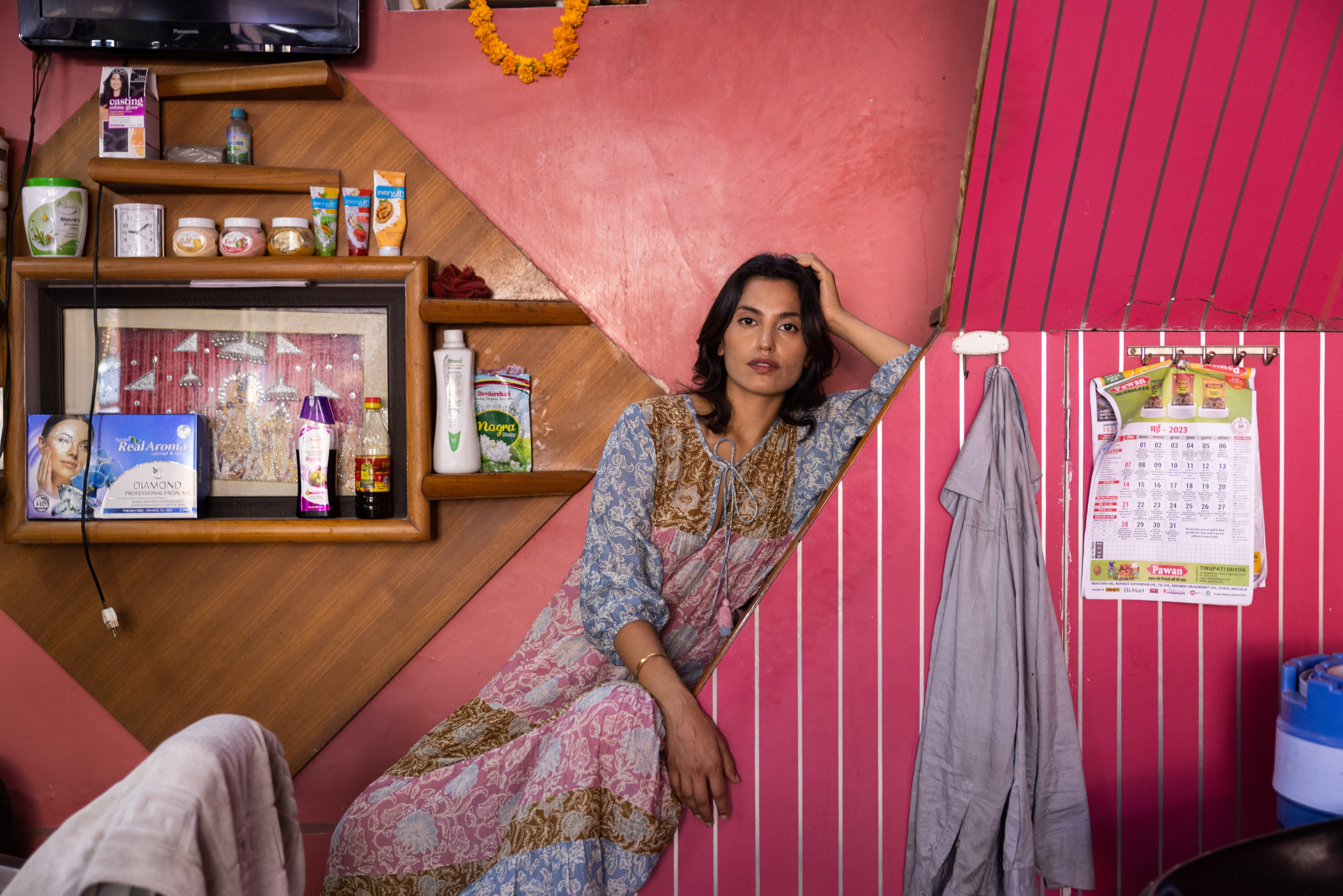 The Suswar Story
Suswar was born out of my love of India, fashion and textiles and a desire to share my passion for travel and unique fashion from around the globe with others. My background in interior design and fashion drives my love of beautiful things and the desire to create, and I'm so lucky that Suswar fulfils both.
I wanted the Suswar clothing label to celebrate ancient cultures and craftsmanship with modern values of ethical production, sustainability and slow fashion. That means less is more and that we maintain respect for people and the environment in the production of our unique, timeless pieces. I wanted to use colour palettes inspired by the rich colours of India, Australia and Bali, and to infuse into the Suswar ethos, the gentle Balinese belief in maintaining a harmonious relationship with nature, people and their spirituality. That's what we strive for in every aspect of our business.
I wanted Suswar collections to celebrate the feminine, the carefree spirit, the lover of timeless, unique design made from luxurious silks, linens and cottons. Designs that salute century's old artisanship, brought to life with hand-carved woodblock printing and beautiful colours carefully blended to achieve the perfect hue. Designs made in small batches to stand the test of time. As well, I wanted to source a colourful collection of accessories from both local and global creators - like the Pom Pom and Mochila bags handmade by Women of the Wayuu Tribe in Colombia. Each individual bag is a work of art. Authentic. Beautiful. Unique. A perfect fit with Suswar.
Block Printing & Design
Our beautiful hand-printed fabrics use the century's old technique of woodblock printing. Each unique wood block is developed hand-in-hand with our talented artisans in Jaipur, like Mr Dinesh, before it is intricately carved from Teak over a number of days. It means from the very beginning of the design process, each Suswar piece is a hand-crafted, one-off.
The Process
The printing process starts with pots of carefully hand-mixed colours. Drop by drop, small amounts of colour are mixed in a tray until the desired colour is achieved. Then it's time to start stamping the fabric. Fabric is stretched over long tables for artisans, including Mr Shankar, to move along, stamping those intricately carved wooden blocks onto the material, one block at a time. It's precise, time-consuming work which the team says is therapeutic, and for me it's simply mesmerising to watch our vision come to life in such a time-honoured way.
I've built close relationships with Divya and Aseem, the owner of the manufacturing business, and his team, spending days working together in the factory to create our fashion pieces. We work collaboratively - often around meals - focusing on creating the best possible garments we can, and such is our strong bond now, we consider each other family.
Design
How we love design! Our design inspiration comes from the abundant offerings of botanicals in Australia and India as well as the gentle beauty of Bali where daily ceremonies always include botanicals as offerings to the Gods. We then translate them into quite simple motifs so that each flower can be recognised in a stylised form. And how we love colour! Our colour inspiration is drawn from the old, walled city of Jaipur in India with its predominance of muted pinks, blues and golds; the rich earth tones of the Australian landscape; and the delicate blues, yellows and greens which are the essence of Balinese culture.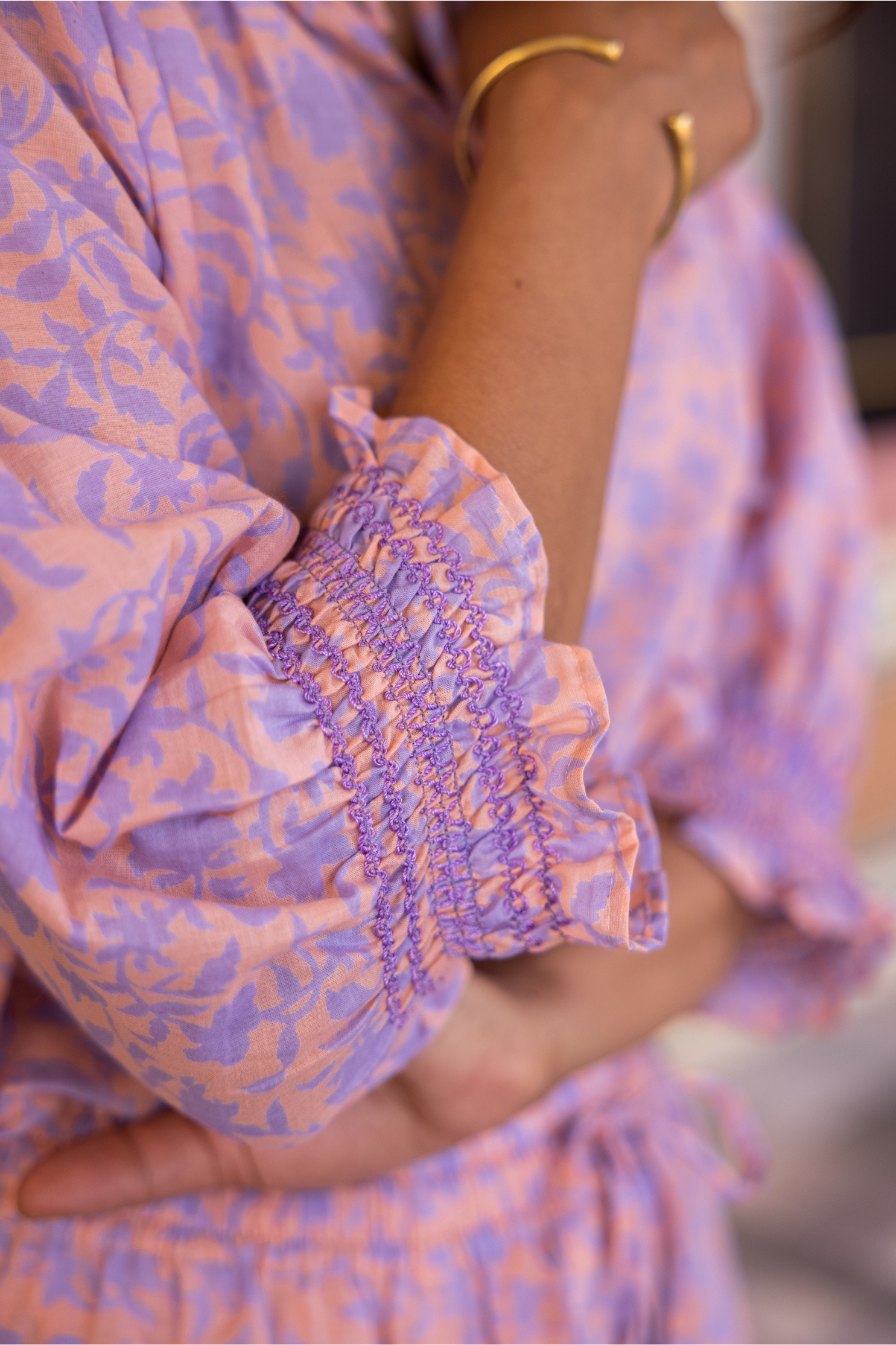 The Suswar Name
I chose the name Suswar which comes from Hindi and means Rich or Sweet. It's got a perfect fit with our ethos and creative signature. The gold in our logo references the exotic and vibrant colours of Indian jewellery, fabrics and life. The pink, three camel footprints motif symbolises the incredible journeys made by some camels in India, which trekked for days, carrying textiles across borders, deserts and wilderness to deliver to their Indian markets and often travelling alone without human guidance. It's about perseverance and staying on course.
We Love Slow Fashion
Slow Fashion is taking root across the planet for the best of reasons: it's looking after the planet for us and future generations. Slow Fashion is about producing less to last longer, respecting people and the environment in the manufacturing process and shouting out loudly that 'more is not better.'
We want Suswar pieces to be hanging in wardrobes for a long time and they will, because of their timeless design and quality of manufacture with luscious, natural materials such as linen, cotton and silk.
And that's our story so far. We'd love you to be part of it too.
De x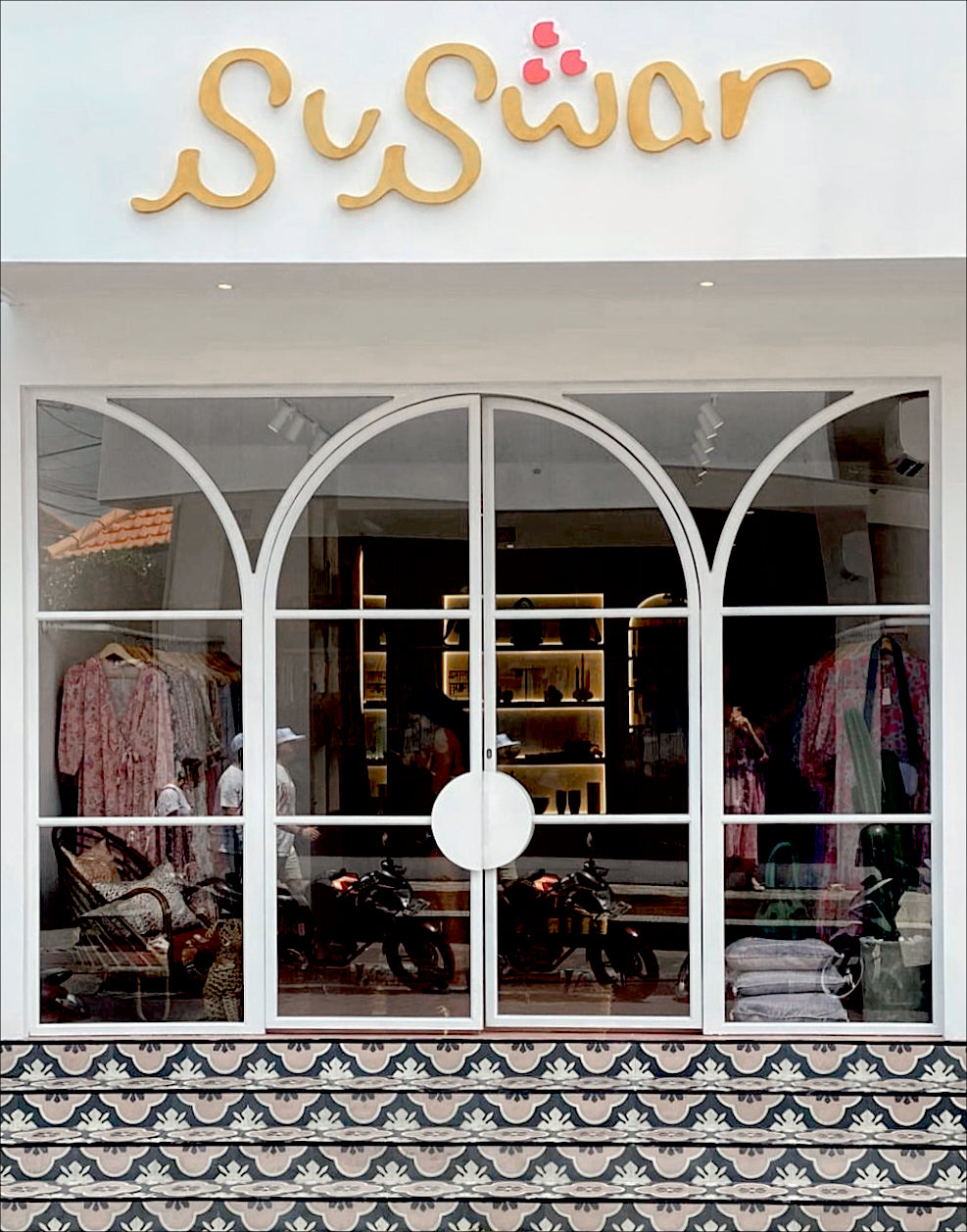 Our Bali Store
It's an eclectic treasure trove of lifestyle products and design brands from both local and global creators and sells not only our unique, India-made collections but also garments designed and sourced locally from our Bali suppliers. You'll find a collection of homewares, vintage rugs, one-off pieces and boho wardrobe essentials too. Our store opened in Bali 10 years ago, and our amazing staff, who have contributed so much to our success over the past decade, are now like our extended family. We feel so blessed to be able to work with the Balinese people whose influence helped shape our brand ethos and continue to be such a big part of the Suswar story. Lucky us.